The Gift of a Garden…
We have been looking for an allotment or plot in our village to develop as a 'potager' style garden combining vegetable cultivation with culinary herbs and decorative flowers. The hope is that we could use it both for growing fruit and vegetables to eat, but also as a place for learning more about ways that practical engagement with cultivation and seasons serve as tools for spiritual formation. This we sensed would come through our choosing to respond to God's invitation to garden our own hearts, while we cultivated.
We were considering a village allotment but the plot is too big and the location too far away. A few days after we decided not to accept the allotment, we were delighted to have been offered a disused vegetable plot in the south-facing garden of a friend's home, who are busy meeting the demands of family life and work, leaving them little time to develop the garden themselves. This generous offer seems too good to be true, a three-minute walk away and a previously cultivated plot with an old greenhouse and compost bins thrown in! We can't wait to get started!
Though overgrown with long grass and weeds, as we have started to clear the ground, amongst the weeds, grass, nettles and buttercups, we are finding treasures! So far we have uncovered raspberries, strawberries and blackcurrants. Two fruit trees have emerged from choking weeds – a plum and pear.
Enjoy our diary entries which document cultivation processes, challenges as well as progress in the garden, and our reflections upon some spiritual lessons that we are learning along the way…

Willing to wait…November 2015
"Wait for the Lord; be strong and take heart and wait for the Lord". Psalm 27:14
Our task for this month is tackling the long grass. Using shears we have chopped off most of the top grass then covered the area with a layered 'lasagne' of weed suppressant material and cardboard to smother the unwanted weeds and grass. We are now faced with the challenge of removing what we initially thought was invasive couch grass and having the prospect of waiting for at least six months while the 'lasagne' did its job, which seems daunting and a little disappointing. It challenges the enthusiasm we all share to leap in and get started straight away, and also the unwillingness to wait. Reflecting on this dynamic of naturally wanting to get on with the job, whilst we are being forced to wait we realise God has got our attention. We are each becoming aware of reasons why we need to wait with God relating to prayer and letting God prepare the ground in our own hearts and lives. At the same time, we recognise the invitation to wait as God's strategic encouragement and care and because of this are more easily able to accept the prospect.
Preparing the ground…December 2015
"I am the true vine, and my father is the gardener. He cuts off every branch in me that bears no fruit, while every branch that does bear fruit he prunes to make it more fruitful". John 15.2
While leaving the ground to wait for the smothering work on the weeds and grass, we are attending to some much needed pruning. We pruned the pear by first removing diseased and dying wood and branches that were crossing over, and then cut a third of the previous years' growth on the primary branches.
We have also been covering more of the plot with cardboard and black weed suppressant material and reflecting on two methods of weed removal. The harder task of digging up the weeds could be seen to reflect the curse God proclaimed after Adam and Eve's disobedience in the Garden of Eden, "cursed is the ground because of you; through painful toil you will eat of it all the days of your life…" (Genesis 3:17. By contrast, just laying down weed suppressant covering, could represent God's redeeming grace and forgiven sins under the new Covenant.
Garden at rest…January 2016
This is what the Sovereign Lord, the Holy One of Israel, says: "In repentance and rest is your salvation, in quietness and trust is your strength, but you would have none of it." Isaiah 30:15
The garden is now at rest and we are using the time to plan the structure of the plot and planting for the spring and summer. We are reflecting on how we could use the winter season of our lives to rest and refocus and be made ready for a new season of deeper personal growth and fresh purpose.
The greenhouse which is overgrown with nettles, full of broken pots and tools needs a good clear out and re-organising to make room for propagation. A pattern in our restorative journey in God can sometimes be one of being drawn by the Holy Spirit to a place of rest, or having our circumstances shifted so that we take notice of issues and obstacles that hinder our relationship with God and personal growth. A reordering of priorities and approach to life can often be the fruit of these times.
Nurturing fruit bushes…February 2016
The one who guards a fig tree will eat its fruit, and whoever protects their master will be honoured. Proverbs 27:18
We are adding bark chippings on top of the weed suppressant to strengthen the protective covering and we have begun to dig a trench at the back of the plot ready to plant with redcurrant and gooseberry espaliers. When it came to planting the soft fruit trees, we put compost in the base of the trench, carefully positioned and angled the stems so that grow at a forty five degree angle. We covered the ground with redundant carpet, which we had gathered up from a neighbour.
Raspberry beds needed weeding and thinning out, before replanting to give each cane room to flourish. We will move the unwanted raspberry canes to another bed. As we are working away on the different tasks in the garden we were becoming more aware of the spiritual partnership between us and our Father God, the master Gardener. His desire is that we should all flourish under his guiding hand, and be rooted in places where we can bring life and hope to others.
Providing paths…March 2106
You make your saving help my shield; your help has made me great. You provide a broad path for my feet, so that my ankles do not give way. 2 Samuel 22: 36-37
Recycled bricks were brought from a nearby building site to edge a path that would weave through the plot. We are going to add bark chippings on top of a layer of weed suppressant to complete the path. On the theme of beauty for ashes we are deliberately making use of redundant materials, giving them new life and purpose mirroring God's economy and desire to restore. We sensed God's grace in making things available to us that we needed just at the right time, for example an old bamboo screen as a covering for the raised bed, that was just the right size. The top soil in the corner of the owner's garden was offered to us at the moment when we needed it. The bricks were given to us by the builders and pieces of wood.
We have seen a robin flying in and out of the greenhouse's broken panes. Today one of our team had a lovely surprise whilst tidying pots in the greenhouse. They spotted two feathery balls with beaks in a beautiful nest made of moss, oak leaves and lichen in the bottom of a terracotta pot. What a wonderful place to be born if you're a robin! The babies were already fledglings and disappeared soon after we had discovered them.
Suppressant surprises and early sowing!…April 2016
Therefore, since we are surrounded by such a great cloud of witnesses, let us throw off everything that hinders and the sin that so easily entangles. And let us run with perseverance the race marked out for us, fixing our eyes on Jesus, the pioneer and perfecter of faith. For the joy set before him he endured the cross, scorning its shame, and sat down at the right hand of the throne of God. Hebrews 12:1-2
Lifting the weed suppressant off the garden today we are amazed that most of the weeds had broken down with the exception of the more tenacious weeds and raspberry sucker root. Digging out raspberry roots is relatively easy. Dandelions are not so easy because of their big tap roots, but deeply satisfying when you free the whole root from the soil. We got excited about dandelion pulling and took photos! The soil is friable, a joy to work with, because of the fruit of decades of other people's cultivation and care for the soil.
Rummaging through a wood pile we found recycled planks of wood and even an old drawer front with knobs, to make a raised bed. The house owner offered us beautiful topsoil yesterday that had been previously dug and left in a corner, so we wheelbarrowed it over and used to fill the raised bed to the brim. Starting the greenhouse clear out yielded all sorts of vital tools, stakes, pots to reuse and goodies such as chicken manure, which we generously worked into the soil in the raised bed. Work continues in the greenhouse, clearing out any old and broken pots, and washing trays down to prepare for seed sowing. Parsley seeds are now sown in the greenhouse.
Seed sowing, creating supports and planting out…May 2016
Now he who supplies seed to the sower and bread for food will also supply and increase your store of seed and will enlarge the harvest of your righteousness. 2 Corinthians 9:10
Warmer weather is encouraging us to visit the garden more frequently and start planting up the beds. Lavender bushes, tree mallow, fennel, sweet peas and morning glory, after a period of hardening off, are now planted in their chosen positions. We are continuing to fill the raised bed and add some organic vegetable compost and poultry manure. The soil needs to be raked to form a fine tilth ready for seed planting. Towards the end of the month we will be sowing carrot, beetroot and spinach seed. Tomato plants are planned for one end of the bed.
We are having fun devising sturdy supports from old bamboo canes for the growing raspberries. We are being reminded of the need for supports in our own spiritual journeys, especially during the tough seasons of our lives when circumstances seem to be taking us along a different direction.
Parsley seeds are germinating three weeks after sowing – what a joy to see the tiny seedlings emerging, reminding us of the words of Jesus, "Very truly I tell you, unless a kernel of wheat falls to the ground and dies, it remains only a single seed. But if it dies, it produces many seeds. Anyone who loves their life will lose it, while anyone who hates their life in this world will keep it for eternal life." John 12:24-25
Enemy attack …June 2016
When a man's ways are pleasing to the Lord, he makes even his enemies live at peace with him. Proverbs 16:7
June has been the month of pest attack – not helped by the wet, cool weather we have been experiencing.  Slugs are munching on the carrot, chard and beetroot seedlings in the raised bed and have totally decimated the newly emerged sunflower seedlings which had been planted to screen the greenhouse. Seeds of annuals scattered in the flower beds have come to nothing.  Aphids and weevils have attacked the pear tree and fruit bushes, but interestingly only one of the redcurrant bushes. The other remains perfectly healthy!
As we reflect on the losses, we are reminded of the curse placed upon the ground after Adam was banished from the Garden of Eden, "cursed is the ground because of you; through painful toil you will eat of it all the days of your life" (Genesis 3:17).  Thorns and thistles are mentioned in the next verse but equally insect pests could be viewed as a consequence of divine judgment on the land.
However, the verse in the book of Proverbs above is suggesting that if we make it our care to be reconciled to God and to keep ourselves in his love, he will change the hearts of our enemies and allow them to live at peace with us.  Could the same principle be applied to the creation which the Apostle Paul says, is waiting in eager expectation for the sons of God to be revealed (Romans 8:19)?  The good news is that there is redemption for the whole of creation and we can be partakers together with the Holy Spirit, in bringing back order and harmony into the garden. Prayer and worship are keys in fighting the battle and I suggested praying against the aphid infestation on the pear tree.  The appearance of a solitary ladybird within minutes of praying was an encouraging answer and the start of our adventure to seek natural and spiritual solutions to pest control.
We replanted the sunflowers from seedlings grown in the greenhouse and placed a beer trap between the plants.  Another beer trap was placed in the courgette bed and a recent experiment has shown that slugs are more partial to more expensive brands of beer than budget versions!
The flower bed is flourishing, helped by the abundant rain, and the raspberries are now fruiting.  Potatoes have been planted in a potato bag, mini tomatoes in a raised planter, and mixed salad leaves are germinating well in the greenhouse.  We look forward to eating and sharing some of the produce and continue to thank God for the gift of this garden and the abundant metaphors it provides for gardening our hearts.
Fruitfulness and loss … July 2017
The Lord is close to the broken-hearted and saves those who are crushed in spirit             Psalm 34 : 18
A month of rapid growth with temperatures rising into the high 20's degree centigrade.  The tree mallow is blossoming well but has become huge, with side branches shading the other plants, including the newly planted Cosmos seedlings.  We decided to remove many of the side and lower branches to allow the other plants to thrive.
Nasturtiums are flowering prolifically at the edge of the flower border, their bright orange flowers making a colourful border and a welcome addition to salads.  Sweetly scented, pink sweet peas have reached the top of the canes and are being regularly picked to lengthen their flowering season, and the sunflowers are now growing well after giving extra protection from cardboard tubes edged with copper tape.
The golden chard in the raised bed is providing us with nutritious leaves for salads and risottos, and we have been sowing more beetroot and carrot seed to replace the seedlings lost to the slugs.  The hot weather is keeping the slugs at bay but evening watering soon brings them back!  Morning watering has been recommended as well as refilling the beer traps.  The courgette plant is now producing flowers in spite of being under constant attack from the slugs.  The tomatoes are thriving in their chosen position and have grown very tall with many flower trusses and developing tomatoes.  We have been removing lower leaves and pinching out the side shoots to maintain fruitful plants.  The raspberries are fruiting well but need regular picking to keep from deteriorating during the hot weather.
This month has coincided with a personal loss, a dear Father who loved gardening and who was still active in his garden at ninety- two years old and who found solace and purpose in tending his garden after the death of his wife three years earlier, just as I had done in tending my late husband's allotment after his death nearly ten years ago.  Looking at the sweet peas, tomatoes and young Cosmos plants, all supported by stakes and canes, reminds me of the need for support during these difficult times of loss.  I have appreciated practical and emotional support from family and friends, but also becoming aware of how much my heavenly Father longs for me to know the words and truth from the psalmist above, and to receive His comfort as I walk through the "the valley of Baka".
Parable of the plum tree and the dead Buddleia… August 2016
Truly my soul finds rest in God; my salvation comes from him – Psalm 62:1
Setting time aside to 'take stock' of life, a situation or experience is always invaluable but not always comfortable. Outcomes are often unexpected perspectives, challenges and difficult emotions that deserve more time to process.  To take stock (of something) is 'to think carefully about a situation or event and form an opinion about it, so that you can decide what to do'(Cambridge dictionary)
Spending a few days recently considering where we are on our journey with Parable Garden, yielded some surprising perspectives and was a rich and fruitful experience. We gave the day to God,  hopeful that He would guide and encourage us in the process. We decided to be practical in our prayer time and to start our day in the parable prayer garden, our 'potage-style' plot  shared with a family and several artists, whose studios are adjoining it. We walked there hopeful that we would find sweet peas and tomatoes – some of the fruit of our gardening labours.
Sitting still and quiet on the bench in the middle of the garden we tuned in our senses physically and spiritually, listening externally, listening inwardly, observing sights, sounds, textures, tastes, smells, becoming aware of thoughts and emotions. Interestingly we were first drawn to noticing how things are growing. Instinctively our eyes were caught up in looking for good fruit on the tomato vines and fruit trees. Noticing bad fruit on the plum tree overladen with ripening fruit– the immediate impulse was remove it, recognising how rotten fruit infects all the other fruit that comes into contact with it. "I must take out the bad fruit so that it doesn't infect others and stop other plums from flourishing" one of us said.
Bad fruit is deceptive because so often it is hidden in middle of a cluster of seemingly healthy fruit. Some of it was suffocated, turned away from sunlight, with no space to ripen. We set about looking more closely for and removing the hidden bad fruit and where it had already infected neighbouring fruit. We wondered if there was an analogy here for one's own life and character, church life, relationships in families, work communities, even nations. Here we were individually painstakingly handling each infected fruit, hoping by removing it all the remaining fruit would fully ripen and reach its potential. We were reminded of Paul's battle with sin, "I know that nothing good lives in me, that is, in my sinful nature.  For I have the desire to do what is good, but I cannot carry it out……So I find this
law at work.  When I want to do good, evil is right there with me.  For in my inner being I delight in God's law; but I see another law at work in the members of my body, waging war against the law of my mind….  What a wretched man I am!  Who will rescue me from this body of death.  Thanks be to God-through Jesus Christ our Lord! (Romans 18 – 25).
Thankfully Christ intervened in the brokenness of our human condition, into the repeating patterns of sin, attitudes and actions that rob, steal and destroy relationships in all spheres, obstructs God's purpose for our lives, affects our spiritual, emotional, mental and spiritual health. He broke the pattern of sin and death for all humankind through his own death on the cross, resurrection and ascension. He offers an invitation to all to come and find hope, peace and resting place in Him in the midst of all circumstances, however challenging.
Branches on this same plum tree were top heavy, weighed down with fruit. They were brittle and needed propping up. If a fruit tree hasn't strength in its branches relative to the amount of fruit, or adequate support while developing, it reaches breaking point and can't sustain healthy growth and fruitfulness. When starting something new, there is a tendency to want to respond to everything  – opportunities to share the vision, people's encouragement and interest in the initiative as well as individual expressed needs, potentially leading to overwhelm. We reflected on the need to build a support base, putting our relationship with God before anything else, but also being intentional about desiring mentoring and accountability. Otherwise there is a danger of fragmentation, pulling away from the centre, having Jesus out of focus and being out of step with the rhythms and guidance of the Holy Spirit.
The branches of the plum tree needed support and we tried various pieces of wood without success. Interestingly the branches of a neighbouring dead Buddleia with seemingly redundant old stems, became the props, which were cut in a 'v' shaped to fit each branch of the plum tree that had reached breaking point and was in danger of losing its fruit. The weakest and dead-looking Buddleia supporting the deceptively strong plum.  How like human beings this is – however strong we appear, we each need propping up and supporting more than we realise. Very often when we are wanting to appear strong and be productive we deny ourselves a need for support because we are afraid to reveal our vulnerability or weaknesses.  So often because of life's demands, we crash along in life, turbo charged, no time to stop and stare or even think about what we might need for support and why. We become self-centred, closed off, blind to others needs and out of touch with God and our profound need of his loving presence and power.  In mercy and grace God offers us supreme and constant support through Jesus,  the one who himself became nothing on our behalf,  as a perfect buttress to every aspect of ourselves and our lives, through the companionship and leading of the Holy Spirit.
This allegory of the plum and Buddleia challenges us to think about how God designed the body of Christ to function healthily? We all have our part to play. Sometimes we feel useless, left out, redundant, overlooked – but if we are
open, turned towards Jesus, looking out for others whilst being honest with ourselves and God about our vulnerabilities and weakness we can become in his strength an encouragement to others or point them in the right direction to find the support they need, ultimately towards Jesus.  When we are in our overstretched, soulish 'modus operandi', we can do well to turn the attention from ourselves and to invite God to companion us, to be open to learning from those who appear to show more vulnerability and honesty before God, because there we are sure to find kingdom treasure.  God desires us to seek to live in community where Jesus is at the centre, where all our needs are met in him, and where we can encourage and build one another up through sharing hearts and lives, in building God's kingdom.
Make every effort to keep the unity of the Spirit through the bond of peace.  There is one body and one Spirit, just as you were called to one hope when you were called; one Lord, one faith, one baptism;  one God and Father of all, who is over all and through all and in all…
Then we will no longer be infants, tossed back and forth by the waves, and blown here and there by every wind of teaching and by the cunning and craftiness of people in their deceitful scheming.  Instead, speaking the truth in love, we will grow to become in every respect the mature body of him who is the head, that is, Christ. From him the whole body, joined and held together by every supporting ligament, grows and builds itself up in love, as each part does its work.
Ephesians 4 v 3-6, 14-16
September 2019.. Fruitfulness and enjoying the harvest
"He cuts of every branch in me that bears no fruit while every branch that does bear fruit he prunes so that it will be even more fruitful" (John 15:2)
September has been a month of many warm, sunny days and our efforts have been rewarded with continued flowering of fragrant sweet peas, sunflowers and cosmos (both flowering late), chard, beetroot, courgettes, plums, pears and tomatoes. We learnt the lesson that we need to keep picking the sweet pea flowers and leaves of the chard, unless they quickly go to seed.  We shared the produce with the owners of the garden and a neighbouring potter, and recognise the kingdom principle of giving the first fruits to the Lord as quoted in Malachi 3:10-11 ("Bring the whole tithe (alternative: first fruits) into the storehouse, that there may be food in my house. Test me in this," says the LORD Almighty, "and see if I will not throw open the floodgates of heaven and pour out so much blessing that there will not be room enough to store it. I will prevent pests from devouring your crops, and the vines in your fields will not drop their fruit before it is ripe," says the LORD Almighty"). The promise is for a healthy and abundant crop and certainly we have been blessed with a continuous supply of healthy chard leaves and a good crop of large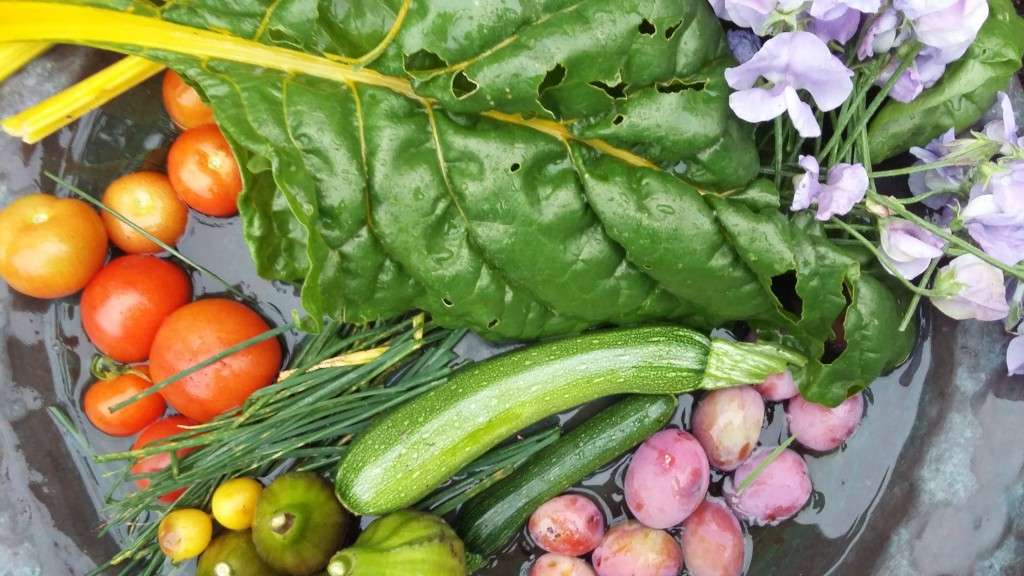 tomatoes.
We discovered that the tomatoes needed a lot of tending because of the rapid growth of shoots and leaves.  We needed to remove the side shoots so that all the energy could go into producing bigger tomatoes, and the leaves where they were shading and preventing the tomatoes from ripening.  This is a wonderful picture of the surgery God performs in our lives which John writes about in his gospel.  Yes, he was talking about grape vines, but pruning is also an essential technique for tomatoes and many other types of plant.  Our Father prunes us so that our lives not only bear fruit, but continue to bear fruit of increasing quality.  This can be a painful process because it may involve us having to surrender parts of our lives that drain precious time and energy from what's truly important.  Better to do a few things that are fruitful rather than lots of things that spread us too thinly – which resembles a tomato plant that has not been pruned and gets top heavy with many side shoots and leaves and few tomatoes.  Our tomato plants became so heavy that they fell over and we reflected on the danger of 'burn-out' if we take on too many different activities.
The sharp pruning knife that the divine gardener uses may be the word of God and this can come in a number of ways: through a scripture, sermon, prophecy or the wise counsel of a friend, or by hearing the quiet voice of the Holy Spirit within.  It may also come through a difficult circumstance or test of faith, but the key is not to resist it.  It will eventually bring fulfilment, joy and fruitfulness.